In this series of Software Testing Tutorial will give you a in-depth understanding on Testing Concepts, Level of Software Testing, its Types, Methods and Techniques.
Software Testing is the process of identifying the correctness and quality of software program. The purpose is to check whether the software satisfies the specific requirements, needs and expectations of the customer. In other words, testing is executing a system or application in order to find software bugs, defects or errors.
Software Testing Tutorial - Audience
This Software Testing Tutorial is designed for software testing professionals and fresh graduates who would like to understand the concepts of testing in detail along with its types, methods, levels and techniques. This tutorial provides enough ingredients to start with the software testing process from where you can take yourself to higher levels of expertise.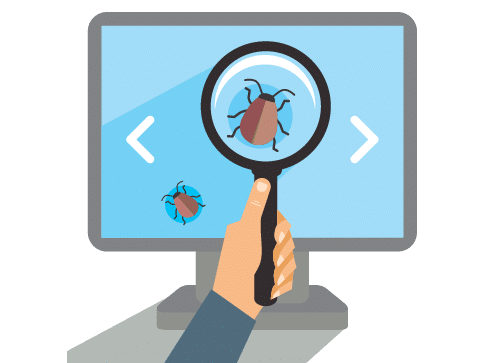 Software Testing Tutorial
Ways of Testing
Software Testing: Process to find out bugs and issues in the system/application. Learn More
Manual Testing: Test Cases executed manually. Learn More
Automation Testing: Testing performed with the help of automation tools.
Test Artifacts
Test Basis: It is the information needed in order to start the test analysis and create our Test Cases. Learn More
Test Case Specification: A document described detailed summary of what scenarios will be tested, how they will be tested, how often they will be tested. Learn More
Test Scenario: It is also called Test Condition or Test Possibility means any functionality that can be tested. Learn More
*Test Case: What is Test Case and Strategy to Write Good Test Case a documentation which specifies input, pre-conditions, set of execution steps and expected result.
Testing Process
Software Testing Principles: Seven Important Software Testing Principle to Improve Testing Quality. Learn More
Testing Process: Testing is a process rather than a single activity. It includes Planning & Controlling, Analysis & Design, Implementation & Execution, Evaluating Exit Criteria & Reporting and Test Closure Activities Learn More
Software Testing Life Cycle: Software Testing Life Cycle (STLC) is defined as a sequence of activities conducted to perform Software Testing. It consists of series of activities carried out methodologically to help certify your software product. Learn More
Software Development Life Cycle
Software Development Life Cycle is a systematic approach to develop software. It creates a structure for the developer to design, create and deliver high quality software according to the requirements of customer or end user. Learn More
Level of Testing
Functional Testing: Functional testing involves testing the application against the business requirements. The goal of functional testing is to verify that the application is behaving the way it was designed to. Learn More
Non-Functional Testing: Non-Functional testing is designed to figure out if your product will provide a good user experience.
Methods of Testing
Black Box Testing: Method in which the internal structure/ design/ implementation of the item being tested is NOT known to the tester. Learn More
White Box Testing: Method in which the internal structure/ design/ implementation of the item being tested is known to the tester. Learn More
Gray Box Testing: Method in which tester has knowledge of some parts of internal structure. Learn More
Techniques of Dynamic Testing
Dynamic Testing: Testing conducting while the program is executed. Learn More
Structured Based:

Statement:
Decision:
Condition:
Multiple Condition:

Experienced Based:

Error Guessing:
Exploratory Testing:

Specification Based: Learn More

Boundary Value Analysis: Learn More
Equivalence Partitioning: Learn More
Decision Table Testing: Learn More
Orthogonal Array Testing:
State Transition Diagrams:
Use Case Testing:
Techniques of Static Testing
Static Testing: Testing of a software without executing the code. Learn More
Review – Typically used to find and eliminate errors or ambiguities in documents such as requirements, design, test cases, etc.

Informal Review
WalkThrough
Technical Review
Inspection

Static Analysis – The code written by developers are analysed (usually by tools) for structural defects that may lead to defects.

Static Analysis
Data Flow
Control Flow
Test Management
Bug Life Cycle: Defect life cycle is the journey of a defect cycle, which a defect goes through during its lifetime.Learn More
Continuous Integration CI : It is a software engineering practice in which isolated changes are immediately tested and reported on when they are added to a larger code base. Learn More
Configuration Management CM : A complete Configuration Management program includes provisions for the storing, tracking, and updating of all system information on a component, subsystem, and system basis. Learn More